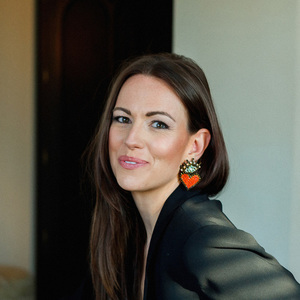 Kacie Lett Gordon
Special guest
Kacie Lett Gordon is an advisor, coach and creator determined to help leaders and companies maintain authenticity in the face of growth. She's the creator and host of Fuck It All, a podcast where modern women are redefining the idea of having it all.
She knows first-hand how lonely it can be at the top, and that is why she's dedicated her work to connecting people, creating value and changing what it means to be a woman in business. She loves to guide people — and especially women — through things that feel impossible to realize what's capable.
She's been the lucky benefactor of life-changing coaches, mentors and advisors; and believe in the power of giving back. Bringing her lived and learned experiences, she works with growth stage companies and emerging leaders, with a focus on women.
In her past life, she co-founded and scaled a $10M professional services practice over 3 years selling into F500 companies like UPS, Warner Media and Nationwide. She served as a bridge between the enterprise and startup ecosystem, co-founding the largest innovation community in the Southeast with 600+ members spanning enterprise, startup, education and nonprofit in Atlanta.
And for those of who you care about this kind of thing, she holds a MA in Interactive Marketing and Media from Elon University, and a BA in Communications and BA in Spanish from Virginia Tech.
Kacie Lett Gordon has been a guest on 2 episodes.
4 May 2021 | Season 1 | 1 hr 14 mins

balance, fuck it all, gender equity, having it all, podcast, storytelling, success, woman

In this episode, Skipper chats with Kacie Lett Gordon about what it means to have it all

23 February 2021 | Season 1 | 1 hr 13 mins

balance, fuck it all, gender equity, having it all, podcast, storytelling, success, woman

In this episode, Skipper chats with Kacie Lett Gordon about what it means to have it all