Skipper Chong Warson
15 June 2021
·
1 hr 8 mins
Recorded in their child's bedroom on a weekday, Laura and Skipper chat about his academic background in writing (English literature, playwriting) as well as his professional background as a product design director (think desktop and mobile apps among other mediums) and how that plays into storytelling, most recently resulting in the creation of How This Works, this podcast.
They also talk about their life together — newsflash: they're married and living in the San Francisco Bay area, having moved from New York City a couple of years ago. Along the way, they get into some of the differences between life in SF and NYC. They also talk about their upcoming wedding anniversary after getting married next to Jane's Carousel in Brooklyn Bridge Park.
Along with talk about his name change from Starr to Skipper (and not Optimus Prime) at the age of seven, they bring in a few questions posed from the listening audience including lessons learned from the first season of the show, calling people the name they want to be called, how crucial listening is in making a podcast, the ubiquity of imposter syndrome, using the five (5) whys to get to the root cause of a challenge as developed by Sakichi Toyoda at the Toyota Motor Corporation, team falling asleep during movies versus team staying awake during movies, and why Skipper color codes versus alphabetizing the books in his background — see photo below.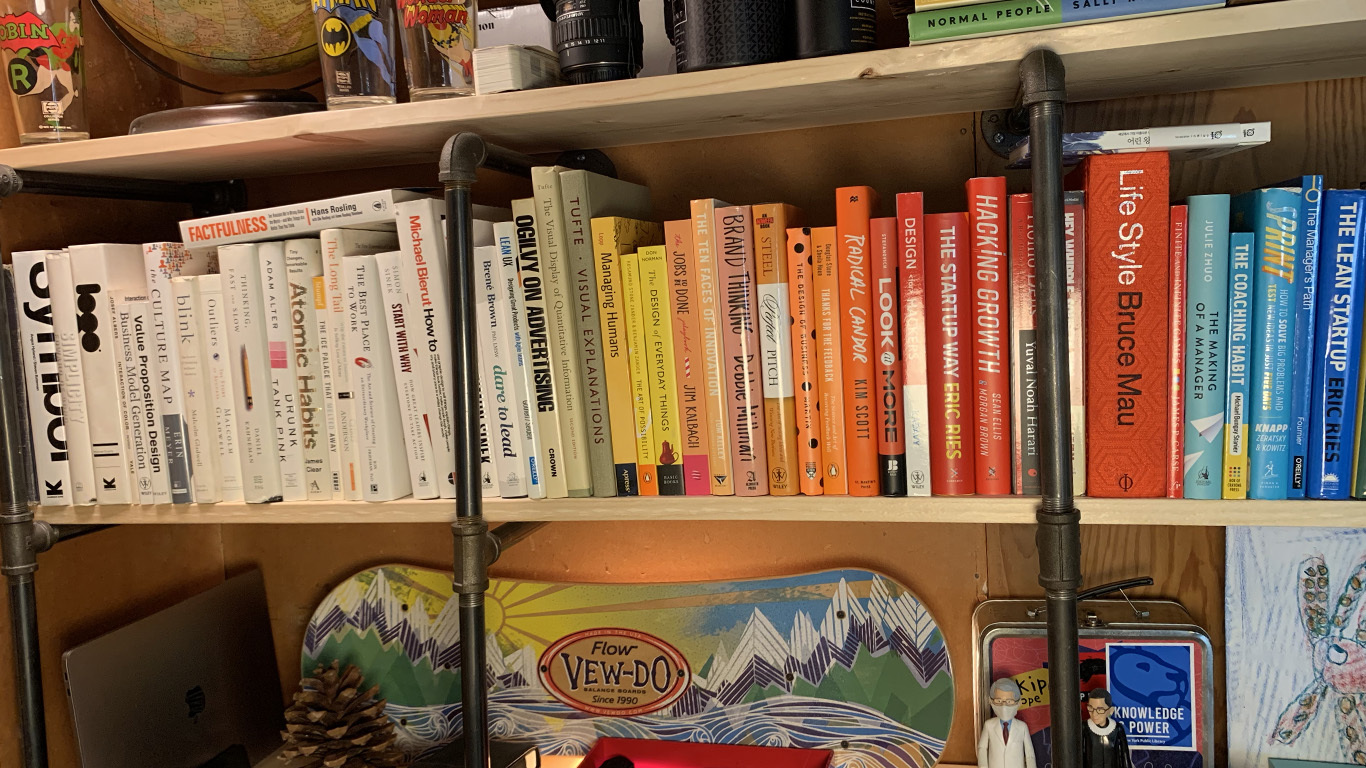 View of the three shelves behind Skipper's standing desk
Laura and Skipper also reference the following previous episodes, in order of being published, including:
Stay tuned after the outro music for a bit of tape where Skipper pauses for a bit of background noise and how from where Laura's sitting, the microphone makes it looks like his nose is a black bit of foam.